Personalized Managed Services
Working with a smaller managed services provider allows for an empathy large-scale MSPs can't give. You're not just another client when you work with BlackHawk Data. When your services fall through, we feel the pain, too, so we quickly jump in to resolve any problems.
One of our clients who experienced success working with BlackHawk Data wanted a personalized approach to managed services – and we delivered. This client works in the industries of healthcare, financial services and the public sector/state and local governments.
The Problem
The harsh reality of working with large-scale MSPs is that often, you're just another number to them. Whether they don't pay enough attention to detail, have too many clients or have a huge staff that provides your company with no personalized attention, these companies don't always go out of their way to help customers – it's their way or the highway.
Most of BlackHawk Data's clients have faced challenges working with larger vendors since they don't offer personalized services alongside technical offerings.
No provider is perfect – it's about how you react and fix issues that make you better than the rest. They must care enough about clients to quickly jump in and resolve any issues or problems.
Most of our clients come out of the need for no longer wanting to be "just another client". They were looking for a vendor that went above and beyond.
The Results
Most BlackHawk Data managed services clients came from them jumping in when they needed someone. They spend a lot of extra time getting to know their network and understanding what they have today and their goals for the future. BlackHawk Data guides them during the relationship and makes suggestions where needed; they want to be a partner, not just another vendor.
The client now receives executive involvement. BlackHawk Data is always available to jump in at any time and is always an escalation point. BlackHawk Data ensures the client has a "lead" on their account from a technical perspective to ensure they know their environment as well as, if not better, than anyone else.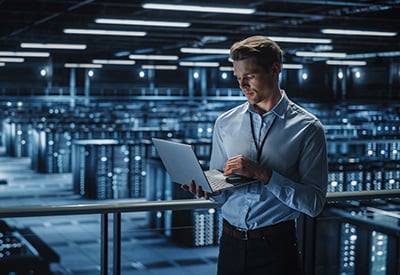 Our Managed Services
With the help of BlackHawk Data's managed services, organizations can focus on what they do best: Running their business.
Business owners and executives must grow their companies and not concentrate on day-to-day network monitoring. The network should be there and function regularly. Someone should be there to watch everything day to day. That is what we are there for. Our job as their partner, first and foremost, is to monitor what is going on, react and be there if there are any issues.
As business owners, BlackHawk Data owners know how invaluable it is to have people around you to trust. People who care about you and your business as you do. Where we shine is caring about making sure your business runs. Someone needs to watch the shop 24/7; that should be where we come in.
Managed services are tricky because it's something that grows out of proportion when you stop doing it right. Our goal is to make sure we can always keep the balance of who we are and what goals we set out to do.
See Your Company Succeed
Want to see what we really look like? We've decided to stick to being different. We've created a pricing calculator so you can get an idea of what our managed services cost without having to talk to a salesperson. Check it out! We'd love to speak with you if you like what you see. Let us show you how committed we are to providing our clients with a different service level!