The Shift to Hybrid Learning
A movement to remote learning in early 2020 sparked a new demand for data security and well-functioning technology in higher education institutions. The influx of online learning placed an enormous weight on in-house IT teams to keep online education secure - managed services help ease this pressure by passing it over to an outsourced team of experts ready to help 24/7/365. Here are two key ways managed services help Higher Education IT teams function.
1. Face off against ransomware vulnerabilities
There's no room for human error when protecting the digital data of students and staff. The in-house IT team is held responsible if there's a data breach. By outsourcing managed services, IT teams can avoid ransomware attacks with automated services that detect suspicious activity even the most proficient employee can't.
Education is now the third most impacted industry by cybersecurity threats. As of July 2022, the number of higher education institutions impacted by ransomware attacks was 64% - a 20% increase from 2021. The more learning that's done digitally, the more information there is at risk.
A ransomware attack hacks into digital infrastructure and holds confidential information captive unless the victim pays a ransom. A ransomware attack causes higher education institutions an average cost of $1.42 million. Even if an institution pays the ransom, only 64% get some of the information back, and only 2% get all the data back.
By having managed services, you decrease the likelihood of experiencing a ransomware attack's financial impact and security violation. By passing the digital-security responsibility off to managed services, IT teams don't have to overwork themselves.
2. Enhance your in-house IT team without extra costs
You're lowering potential costs from lawsuits and ransoms with the protection of managed services, but you're also saving money on labor costs.
Managed services provide the resources of a large IT team without the added labor costs and space. In-house IT teams can carefully select internal staff that brings unique strengths to the team so that they can focus on company-specific goals.
By outsourcing managed services, MSPs seamlessly integrate into in-house IT teams by taking care of everything security-related. IT teams are given the ease of a 24/7/365 helpdesk to quickly tackle any questions students or staff may have navigating a hybrid educational landscape.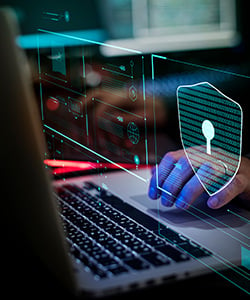 Do You Need Managed Services?
We've smoothed the friction caused by scouring the internet to get a managed services quote. Our managed services calculator makes getting an instant and transparent quote for your company easy.
Get a free instant quote from BlackHawk Data, no strings attached.