Making a Change
Not-for-profit organizations come in all shapes and sizes, unified by one universal goal: Change. To focus on reaching the goals at hand and making positive change, not-for-profit organizations need a backbone of well-functioning technology to keep the focus on what's important. Read about three examples of ways managed IT services could help not-for-profits thrive.
1. Boost the efficiency of in-house IT
teams with 24/7/365 support
IT Teams are a vital ingredient in the recipe for a successful not-for-profit organization. The IT staff is dutied with maintaining a well-functioning digital infrastructure to keep up with the technology-driven world.
However, most not-for-profit organizations need to keep costs down to keep up with the cause they're dedicated to helping, so extra staffing isn't on the radar. With a small IT team, it can be challenging to maintain the protection and visibility a larger team provides, and there's always a risk of human error. It only takes one mistake to set a team back, especially on the tech front, because pretty much everything stems from there.
With 24/7/365 helpdesk support and threat detection, IT teams always have a team of experts as a backup so that they can focus more on company-specific goals and less on security.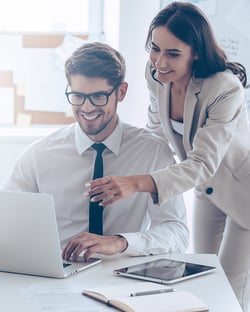 2. Get the expertise of a large staff of
IT experts while maintaining a small team
Managed services provide the powerhouse of a large IT team without accommodating extra team members. With automated threat detection, notifications and quick solutions, IT staffs receive a kind of transparency and urgency that additional staff can't always provide. With managed services, an IT team isn't expanding their team as far as more heads in the office and names on the payroll. Teams extend their security, support and services by outsourcing a team of experts deploying managed services.
3. Reduce costs in several areas
of your IT
There are several ways managed services bring costs down, the first being staff-related costs. With a team of outsourced experts, IT directors can save money on onboarding, training expenses, benefits, and other costs associated with new hires. Instead, directors can focus on hiring more of the right people (even if it means paying up for them) because they don't need a more extensive staff. Managed services handle the security so your team can focus on exceeding goals.
Managed services can also provide bulk discounts and reduce licensing and consulting costs. Plus, you don't have to pay for everything up front – managed services are billed monthly so that companies can budget around them effectively.
Get Quoted in Seconds
There's no need to sit on the phone waiting for a sales rep or spend hours scouring the internet for managed services that suit your budget. Using the BlackHawk Data managed services calculator, you can instantly get a free quote.